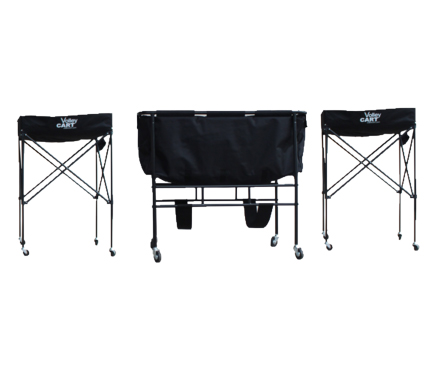 Are you tired of lugging around heavy volleyball balls during practice or games? Do you find it difficult to keep them organized and easily accessible? Look no further, because we have the perfect solution for you – the Sterling Volleyball ball carts.
Volleyball is a fast-paced sport that requires quick ball retrieval and efficient organization. Traditional methods of carrying and storing volleyballs can be cumbersome and time-consuming. That's where our ball carts come in. Designed specifically for volleyball coaches and players, these carts offer convenience, durability, and ease of use.
This article explores the features and benefits of the best volleyball ball carts from Sterling Volleyball. Whether you're a coach looking to streamline your practice sessions or a player tired of the hassle of carrying multiple balls, these carts are a game-changer. Get ready to revolutionize your volleyball experience with a new ball cart.
Top volleyball carts
Here are the top volleyball carts from Sterling Volleyball.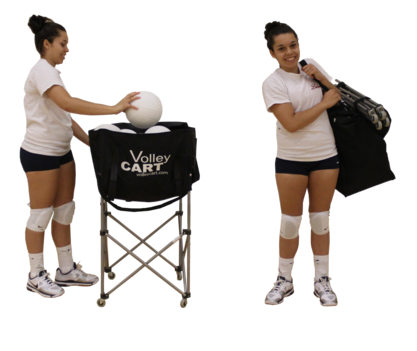 The Go Cart
The Go Cart is one of our best-selling volleyball carts. It's perfect for storing and moving up to 12 volleyballs securely and efficiently. The Go Cart has a solid steel frame with a powder coat finish, making it extremely durable. After you finish practice, you can load your volleyballs, zip it up, fold it, and place the carrying handle over your shoulder for easy transport.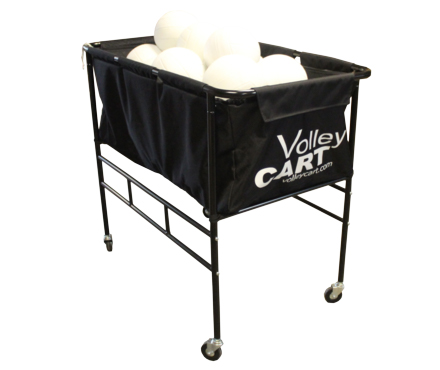 The Big Cart
The Big Cart is the perfect cart for larger teams. It can hold up to 50 volleyballs, and comes with a sturdy steel frame with a powder coated finish. It's also easy to maneuver thanks to its large wheels, and it has a handle for easy transport when practice is over. For storage, you just have to fill it, zip it, lock it, and roll it into your facility's storage area.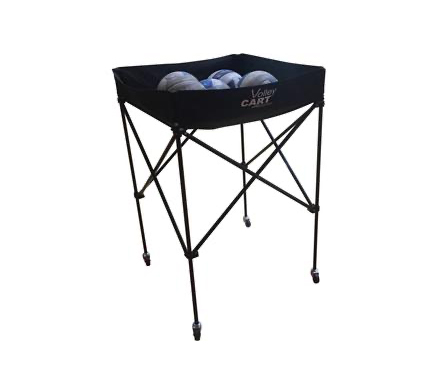 Top Cart/Drill Cart
The Top Cart/Drill Cart is a great option for coaches when they use a stand, chair, or mat drills and practice. It can hold up to 15 volleyballs. When you install it on top of The Big Cart, it provides two shelves for storing volleyballs and drills. The cart also folds up so it's easy to store in between practices.
Features of Sterling Volleyball ball carts
Durable Construction
Sterling Volleyball ball carts are built to last with high-quality materials and sturdy construction. They are designed to withstand the rigors of regular use and can handle the weight of multiple volleyballs without bending or breaking.
Easy Maneuverability
These ball carts are equipped with smooth-rolling wheels that allow for easy maneuverability on various surfaces. Whether you are transporting the cart across the gym floor or navigating through outdoor terrain, the wheels provide a smooth and effortless movement.
Ample Storage Capacity
Sterling Volleyball ball carts come in different sizes to accommodate various storage needs. They can hold anywhere from 12 to 50 volleyballs, making them perfect for both small practice sessions and larger team events.
Convenient Accessibility
The ball carts feature a zipper cover or a removable top for easy access to the volleyballs. This allows coaches and players to quickly retrieve or store the balls without any hassle.
Lightweight and Portable
Despite their sturdy construction, Sterling Volleyball ball carts are lightweight and easy to transport. They can be easily folded or collapsed for compact storage or transportation to different locations.
Versatile Use
These ball carts are not limited to just volleyball. They can also be used to store and transport other types of balls, such as basketballs, soccer balls, or even playground balls. This versatility makes them a practical investment for schools, sports clubs, and recreational facilities.
Need ball carts now? 
Looking for a reliable and durable volleyball ball cart? Look no further than Sterling Volleyball ball carts! Our ball carts are designed with high-quality materials to withstand the demands of the game, ensuring long-lasting performance. Whether you're a coach, player, or sports facility, our ball carts are the perfect solution for easy transportation and storage of your volleyballs. Don't miss out on the convenience and efficiency that our ball carts provide. Order your Sterling Volleyball ball cart today and elevate your game to the next level!