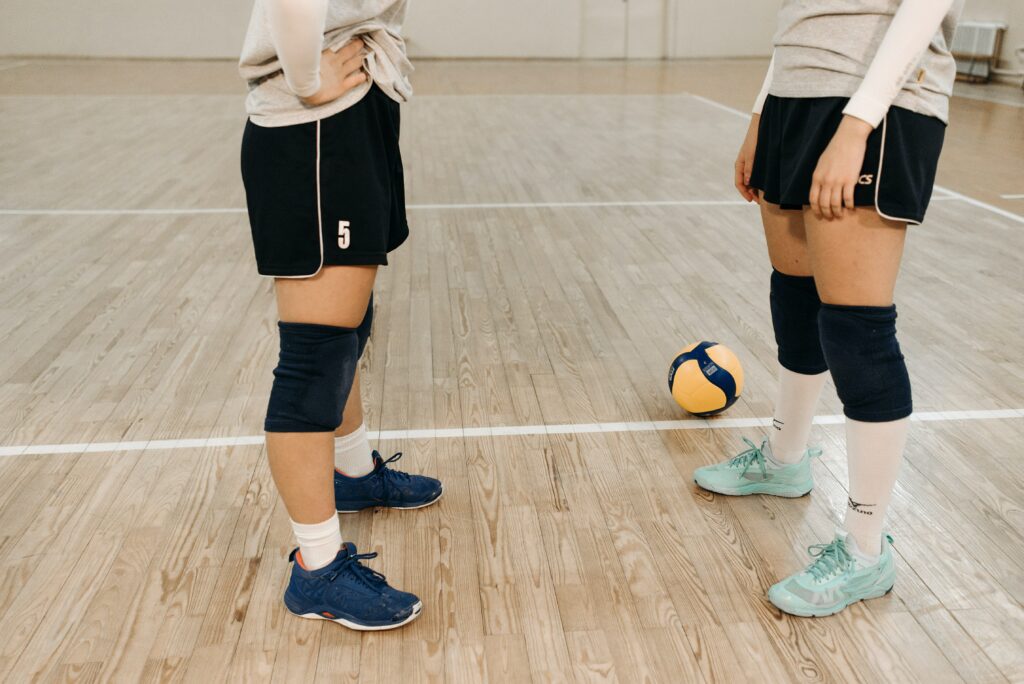 If you have experience playing or coaching volleyball at any level, then pole pads are a familiar sight. In fact, though we often take this element of volleyball equipment for granted, it's difficult to imagine a volleyball net system that doesn't include a set of pole pads. But have you ever stopped to wonder if volleyball pole pads are required to play an official game of volleyball? In this post, we'll answer that question and share some other essential information about volleyball pole pads.
Volleyball Pole Pads Are Required
When playing an officially regulated game of volleyball, volleyball pole pads are required. For instance, according to the most recent USA Volleyball Rulebook, pole pads are not only listed as a requirement, but the pole pads must also cover the poles from the floor to a specific height of at least five and a half feet. The material that comprises the pole pads is also required to meet certain standards for shock absorption and thickness.
Of course, other organizations that regulate volleyball games may have different specific requirements regarding volleyball pole pads. However, it is safe to assume that all of those organizations require pole pads in some form or another.
Why Volleyball Pole Pads Are Required
The reason why volleyball pole pads are required is an obvious one—they are a vital piece of safety equipment that can drastically reduce the risk and severity of injury when players inevitably collide with the supporting structure of the net system during play.
When playing volleyball, or any other sport, safety should remain a top priority. As such, creating a safe playing environment is a prerequisite for any legitimate volleyball game. Pole pads are one of several required pieces of equipment that contribute to that save environment.
To be clear, volleyball pole pads are by no means a guarantee that players will avoid injury when impacting a volleyball pole. However, the shock-absorptive qualities of a pole pad are likely to both reduce the odds of injury and can reduce the severity of injuries when they do occur.
Additional Safety Padding for Volleyball Games
The poles of a volleyball net system are not the only type of padding that should appear courtside at a volleyball game. It is also important that the referee stands and other similar structures near the area of play are padded in the same manner as the pole. Without padding, these objects are just as likely to cause injury as an unpadded pole would when a player impacts them.
Features of a High-Quality Volleyball Pole Pad
As you might assume, not all volleyball pole pads are equally capable of providing a volleyball court with the level of safety it should have. The degree to which a volleyball pole pad can meet all requirements and serve you well depends on a few key features, which we've briefly described in the sections below.
Proper Sizing
The sizing of your volleyball poles is crucial, especially if you are interested in meeting official requirements. Above, we mentioned that USA Volleyball requires pads that are five and a half feet tall. However, it is important to remember that measurement is a minimum.
There is nothing stopping you from using pads that are taller than that, and you might be better off for doing so. After all, the more area of poles you are able to cover, the better capable you will be of keeping even the tallest of volleyball players safe.
Durable Materials and Construction
When you consider the primary purpose of volleyball pole pads, it is easy to see that durability is an important characteristic of this kind of equipment. By selecting a set of volleyball pole pads that includes dependable materials and has been assembled properly, you can ensure that your pole pads have the longest lifespan possible.
When evaluating durability, you should also check the thickness of the pole pads. Again, some regulations may call for minimum pad thicknesses, but in most cases, a pad that is at least an inch or more thick will be enough to ensure it will be both safe and long-lasting.
Easy Setup
Even if you are able to find volleyball pole pads that are well-made, safe, and sturdy, your new pole pads will quickly become a frustration if you have difficulty setting them up. Likewise, setting up your pole pads properly will also play a role in how much they add safety to your net system, which is why ease of setup is such an important feature.
Volleyball pole pads with hook and loop straps are some of the easiest to set up. Additionally, this type of volleyball pole pad is also very easy to take down after a game is over, which can be just as time-consuming as setup if your pole pads are hard to deal with.  
Appearance and Customization
While safety and ease of use are top priorities for most who are looking for volleyball pole pads, the appearance of a pole pad can be just as important. Fortunately, volleyball pole pads come in a wide range of colors. In some cases, you can also find custom-made volleyball pole pads that feature unique logos and designs.
Get Volleyball Pole Pads for Your Net System
By now, you should know that volleyball pole pads are required as a vital safety feature for any official volleyball game. But whether you are playing an official game or not, volleyball pole pads are valuable enough to include with your net system every time you practice or play a game. If you need help finding the right set of volleyball pole pads for you or any other volleyball net system features, reach out to us today to start a conversation.